Aaliyah
On Saturday, Lifetime will air its Aaliyah biopic, Aaliyah: The Princess of R&B, a movie that was predestined to be bad. The good news is that it executes those expectations flawlessly. In terms of general goodness, it's consistently not, which is impressive
I expected as much when Aaliyah's family publicly rejected the movie and denied Lifetime any legal rights to Aaliyah's music. But even when Zendaya Coleman backed out of playing Aaliyah post-Internet-outrage, my hopes were at a moderate level. After I heard Iggy Azalea's "Goddess" in the trailer, all hope levels were depleted. The probability of this movie being any good was officially zero
Even with the Lifetime deductible applied, it's a solid clunker, storyline and acting wise. The barebones script was sourced from Christopher John Farley's 2001 biography,
Aaliyah: More Than a Woman
, which makes me never want to read that book. Where the movie fails the most epically is that it never stops looking at Aaliyah through juvenile lenses, when in reality she exuded maturity, confidence and sex appeal. Instead, we get a Disney-fied version of her relationship with predator producer R. Kelly and former wanton record-label asshole Damon Dash
It's a challenge even finding anything positive about the movie (which Wendy Williams executive produced), but I'm up for it. Here are the good things
If you're one of the people who thought it would be bad, you'll relish in the fact that you were right
The movie opens with a 10-year-old Aaliyah singing
"My Funny Valentine" on
Star Search
because I'm assuming they
watched this video
. The girl playing young Aaliyah doesn't sing well at all, but they were able to find a dress that looks exactly like the one Aaliyah wore. Good job. The nostalgic baggy pants and bandana outfits are a highlight.
When Alexandra Shipp, as Aaliyah, sings "My Prerogative" at the Detroit High School for the Performing Arts, she sounds like how I do in karaoke. She does the butterfly dance during her routine and it's cute
The script is so skeletal and basic that it's funny. Everything is spelled out as if it's all exposition. The writers seem to particularly want to make it clear that R. Kelly was a hot producer in the '90s. When Aaliyah's uncle Barry Hankerson (his manager) talks to R. Kelly in the club, Kells (played by Clé Bennett) says, "I'm only like the most in-demand writer and producer in the game right now." Later, Aaliyah says, "Mom, he's like the king of R&B." Later again, her brother Rashad says, "The hottest producer in the music business wants to work with you."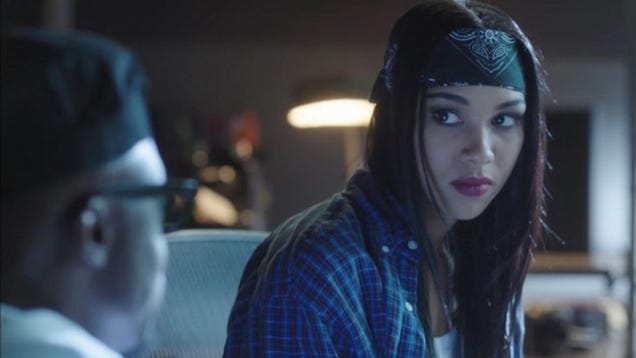 5. Still, there's no worry of anyone liking R. Kelly after this. People will continue to view him as a predator. A good chunk of the movie is just him leering at Aaliyah from behind dark shades in the studio. However, the movie's portrayal of Aaliyah in this case borders on dangerous. At one point, she talks back to her parents as if they're treating her like a child (in real life, she was 15 when they married) and not, I don't know, trying to protect her from a pedophile. The movie, offensively, makes it seem like it's just teen problems—"I hate you! I hate both of you!" she tells her parents
6. It was nice to see Elise Neal playing Aaliyah's aunt Gladys Knight
7. Shipp's version of "At Your Best" and "Journey to the Past" sound shaky as hell, but her vocals overall will make you appreciate the soft, subtle approach that Aaliyah brought to her songs
8. The guy who plays Aaliyah's brother Rashad looks like Drake
9. Once you realize that this is less a biopic and merely "slightly based on a true story, sort of," you might lighten up. Whereas Vh1's great-in-comparison biopic, Crazy Sexy Cool: The TLC Story, opted for true-to-life scenes procured from the people involved, the facts here are completely distorted, i.e. the imagined conversations between Aaliyah and R. Kelly. She tells him, "I hate pretending that you're just my producer." And later, "Eighteen feels like an eternity from now." Oh god
10. There's a scene where Aaliyah is speaking to a label executive and decides to take control of her career and her sound. She boldly requests Timbaland and Missy Elliott to work on her second album, saying: "I want Timbaland and Missy to produce my entire album." This is nice. Independence, yay
11. The actor playing Timbaland looks nothing like Timbaland, but he's cute
12. Out of respect I assume, the producers didn't attempt any kind of plane scene and chose not to address Aaliyah's death. Good move